Pro-Tec Roller Massager

Price: $39.95 + Shipping & Handling
A self-massage tool with raised vynafoam sections used to roll out tight muscles.
Provides deep tissue stimulation for maximum muscle performance.
Rounded end grips allow for comfortable hand placement.
21" x 1.5", 11 oz.
Includes instruction brochure covering 20 massage and trigger point techniques.
Aids in maximizing muscle function.
Relieves sore muscles and trigger points.
Provides myofascial release.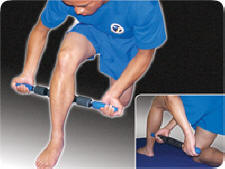 $10.95 SHIPPING PER ORDER
All Prices are in U.S. Dollars
Mainland USA addresses on